March 8 marks International Women's Day, a date that marks the struggle of women for their participation in society and their full development as individuals, on an equal footing with men.
In TRAINFES we want to highlight the women who strive every day to rehabilitate themselves, to support the therapy of others, and also the therapists, physiatrists, kinesiologists and occupational therapists who make up this and other medical teams.
We prepared this blog highlighting some of the women whose research and achievements have advanced the field of neurorehabilitation and physical therapy for people suffering from motor compromise diagnoses. 
Margaret Morris (1891-1980) & Minnie Randell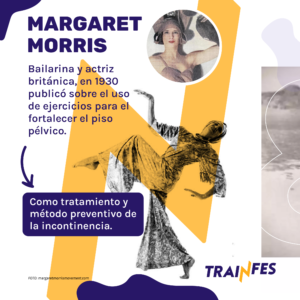 Margaret Morris was a British dancer and actress who, during the 1930s, published the first texts describing the use of pelvic floor muscle strengthening exercises as a treatment and preventive method for incontinence. She studied Physiotherapy at London's St. Thomas Hospital, where she met Professor Minnie Randell. Later, in 1936, the two collaborated to publish the first book with instructions on training to contract and relax the pelvic floor muscles, focused on maternity: Maternity and Post-operative Exercises - In Diagrams and Words.
This is not her only publication on this subject. In 1941, Minnie Randell published Training for Childbirth from the Mother's Point of View, which describes another series of pelvic floor exercises.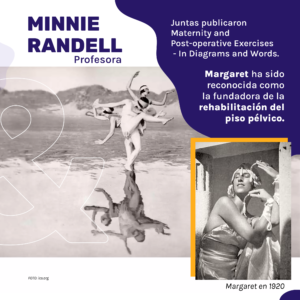 Today, Margaret Morris has been recognized as the founder of pelvic floor rehabilitation, a recognition previously given to gynecologist Arnold Kegel for his 1948 publication Progressive resistance exercise in the functional restoration of the perineal muscles, the first study to show that strengthening the pelvic floor muscles could help decrease the symptoms of incontinence.
Clare S. Spackman (1909-1992)
Clare S. Spackman was a professor of Occupational Therapy at the Philadelphia School of Occupational Therapy at Philadelphia University. Today, she is recognized as a pioneer in the field, having co-authored, with Helen Willard, the first book on Occupational Therapy: Principles of Occupational Therapy (translated into English as Willard & Spackman: Terapia Ocupacional) in 1947.
Spackman was instrumental in the development of the Occupational Therapy career worldwide. She was the treasurer of the American Occupational Therapy Association, and was secretary and treasurer of the World Federation of Occupational Therapy between 1952 and 1956, the same entity that she would preside between 1957 and 1962. In addition, she was part of the executive committee of the Council of World Organizations Interested in the Welfare of the Handicapped, and different committees of the International Society of Rehabilitation of the Disabled.
Margaret S. Rood (1909-1984)
Margaret S. Rood was an American occupational therapist who focused her career on treating people with movement difficulties resulting from neurological problems, mainly in children and older adults. According to an article published in the National Library of Medicine, Rood's method proposed that it was possible to improve the control of voluntary movement and posture based on physiological differences in motor units. For this, Rood explained that it was possible to activate different types of muscle fibers by applying stimuli of different types and intensity, such as fast or slow brushing of the area, application of ice in short periods of time, application of pressure, among others.
Rood supervised the Occupational Therapy area of the Cerebral Palsy Clinic at Riley Hospital of the Indiana University Medical Complex. Subsequently, she became chair of the Department of Occupational Therapy at the University of Southern California in Los Angeles from 1943 to 1952. Rood was awarded the Eleanor Clarke Slagle Lectureship in 1958.
(https://www.ncbi.nlm.nih.gov/pmc/articles/PMC8834225/#B30-ijerph-19-01112)
Florence Peterson Kendall (1910-2006)
Florence Peterson Kendall was an American physical therapist, considered the mother of physical therapy in some publications.. Peterson specialized in the treatment of poliomyelitis in children at Baltimore Children's Hospital. In 1940, she became the supervisor of physical therapy at Maryland State Baltimore. In 1949 she published Muscles, Testing and Training, one of the leading texts for physical therapy students, which links muscle function to posture and pain.
(https://www.ncbi.nlm.nih.gov/pmc/articles/PMC8834225/#B30-ijerph-19-01112)
Berta Bobath (1907 - 1991)
Berta Bobath was a German physiotherapist recognized for the creation of the Bobath Concept, a therapy dedicated to the treatment of people with cerebral palsy and other similar neurological conditions. Initially, she studied at the Anna Hermann gynastics and dance school, where she later became an instructor. However, after taking refuge in London during World War II, she would begin her studies in physiotherapy in 1941. 
Using the neuroscience research available at the time, she and her husband, neurologist Karel Bobath, developed the aforementioned Bobath Concept. This is a therapy for the treatment of people with Central Nervous System disorders that compromise their function, movement and posture, mainly for patients with Cerebral Palsy. According to the Chartered Society of Physiotherapy, the Bobath concept "is the most popular approach to treating patients with neurological disorders in the Western world". 
References:
https://easttnspinesport.com/womens-history-month-famous-women-in-history-who-impacted-physical-therapy/
https://www.ncbi.nlm.nih.gov/pmc/articles/PMC8834225/
https://www.rierehabilitacion.com.mx/el-papel-de-las-mujeres-en-la-historia-de-la-fi